Veracruz, Mexico (6/19/10) – We finally have our Third Grander Marlin of the year and like all of them, this one has a story.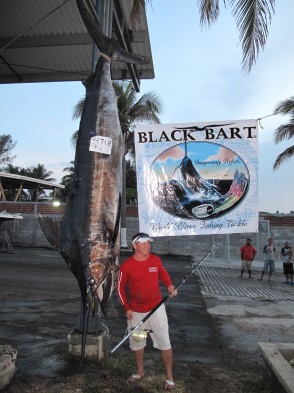 While marlin fishing for his first time, in the 9th Annual El Pescador Marlin Tournament, angler Paco Iniguez Aguilar aboard the La Valiente (a 21 ft trophy center console) caught a very impressive a very large blue marlin, tipping the scales at 1,038 lbs. In fact, she was so large, she could not fit into his boat and thus had to ask for assistance from another tournament participant in order to bring her in.
The lure was of course a Black Bart RPP in yellowfin tuna color. The short length was 147.2″, girth 75.6″ and tail girth was 20.5″.
Approximate fight time was a little over one and a half hours.
Thanks very much to Jack at Black Bart lures (www.blackbartlures.com) for sending over the details. I think we have lost count on how many large fish their lures have caught.